Madbit's FM Tracker 0.11alpha
(Announce)
Today I came across this AdLib tracker made in 1994. It comes with three demo songs and source code for Borland (Turbo) Pascal 7: https://sourceforge.net/projects/fmtracker/ (Direct download: http://datapacket.dl.sourceforge.net/project/fmtracker/FM.Tracker.v0.11.With.Sources.zip)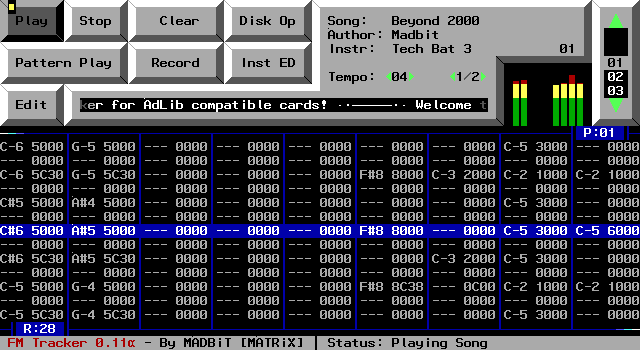 You can find a 7-minute demo video at http://youtu.be/xQQvtjI7THg

Features:
* Supports OPL-2 compatible sound cards like AdLib, SoundBlaster, SB Pro, SB16 or an emulator like DOSBox.
* FastTracker inspired interface and keyboard shortcuts.
* OPL-2 Instrument editor with live preview.
* Imports instruments from HSC Tracker and S!P AdLib Tracker.
* Up to 256 instruments per song.
* Up to 256 patterns per song.
* 64 rows and 9 channels per pattern.
* Editable scrolltext message per song.
* Supported tracker commands: Pitch slide up, Pitch slide down, Shift to note, Set carrier volume, Set modulator volume, Set feedback, Slide volume, Jump to position, Set volume, Break pattern, Key off, Vibrato on/off, Amplitude modulation on/off, Fine volume slide up, Fine volume slide down, Set tempo.
---
Complete thread:
Madbit's FM Tracker 0.11alpha

- rr, 03.10.2018, 20:37

(Announce)